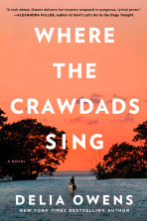 Rating
: 
☕️☕️☕️
☕️
Title
: 
Where the Crawdads Sing
Author
: Delia Owens - check out her 
website!
Genre
: Historical Fiction; Mystery
Summary (from Goodreads):
"For years, rumors of the "Marsh Girl" have haunted Barkley Cove, a quiet town on the North Carolina coast. So in late 1969, when handsome Chase Andrews is found dead, the locals immediately suspect Kya Clark, the so-called Marsh Girl. But Kya is not what they say. Sensitive and intelligent, she has survived for years alone in the marsh that she calls home, finding friends in the gulls and lessons in the sand. Then the time comes when she yearns to be touched and loved. When two young men from town become intrigued by her wild beauty, Kya opens herself to a new life–until the unthinkable happens.
Perfect for fans of Barbara Kingsolver and Karen Russell, Where the Crawdads Sing is at once an exquisite ode to the natural world, a heartbreaking coming-of-age story, and a surprising tale of possible murder. Owens reminds us that we are forever shaped by the children we once were, and that we are all subject to the beautiful and violent secrets that nature keeps."


My thoughts:
What a surprisingly great read! Surprising to me, because I don't usually enjoy anything to do with historical fiction. I don't know if it's because it was more the "recent past" (1960s) or it just didn't feel like a historical setting, but i was wrapped up in this beautiful and sad story right from the beginning.

I instantly had an emotional connection when first reading about Kya and her tragic childhood - in my opinion, extremely sad and unimaginable circumstances for a little girl. This is such an integral part of the story to both capture the reader and initiate the sympathetic connection to the main character.

I did find the bulk of the book a bit slow moving (why it is only 4 coffees for me), but as I have said before, I am using to very fast-paced, intense suspense books, so this is no surprise. On this note, I have read a lot of reviews saying that there was too much nature-writing, excessive descriptions of the marsh and the creatures. I wholeheartedly disagree with that notion - that marsh and those creatures were Kya's whole world. To understand her, you have to understand the surroundings that she inhabited, and the animals that became her true family. Otherwise, her isolation and bond with nature would not have the impact it needed to.

The ending was a total shocker to me - for 2 reasons. And here comes the SPOILER ALERT! If you have not read or finished the book, proceed with caution...